8/1/2015
A Python application for calculating diameters to produce perfect knurls every time....using Conrad's Easy Knurling method.
4/4/2013
Very sturdy and easy to use bino mount made from scrap ply-wood.
7/25/2012
The making of an Astronomy Time-Lapse controler.
5/2/2012
WORK IN PROGRESS - INCOMPLETE!
A experimental set-up for me to learn more about the Radar detection of meteors using the VHF back-scatter technique. All this with a brilliant little USB radio receiver called the Fun Cube Dongle (FCD) made in the UK costing £120.
5/2/2012
A short interview with me by the BBCs Sky at Night TV programm about my newly completed Ritchey Chretien telescope.
5/2/2012
How I took a standard 3 phase Harrison M300 and converted it to single phase, with the use of a digital invertor. Whilst retaining all the in-built safety features.
8/1/2006
The ultimate photovisual scope, sporting 1/8th wave true Richey Chretien optics, all aluminium, carbon & titanium construction, Mounted on a home made computerised equatorial fork mount, or maybe a Yoke? (or GEM??)
FIRST LIGHT!!! Read all about it and see loads of new photos of the completed scope.
5/10/2011
Checking the microchip catflap works, and if not how to rectify know problems.
8/8/2011
The easiest DSLR long exposure timer on the planet
12/21/2010
12/11/2010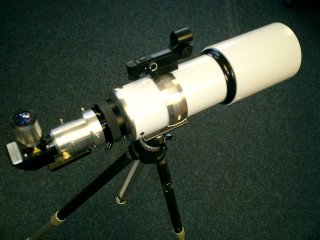 12/11/2010