PREQUEL TRILOGY
Episode I
The Phantom Menace
The Virtual Edition
Episode II
Attack of the Clones
The Virtual Edition
Episode III
Revenge of the Sith
The Fans' Virtual Edition
The Spies' Virtual Edition
Trailers
SEQUEL TRILOGY
PORTAL SITE
The Virtual Edition
Episode VII
Plague of Doom
The Virtual Edition
Episode VIII
The Darkness Within
The Virtual Edition
Episode IX
Title tba
The Virtual Edition
Map of the Star Wars

by Nathaniel Reed, 9/2005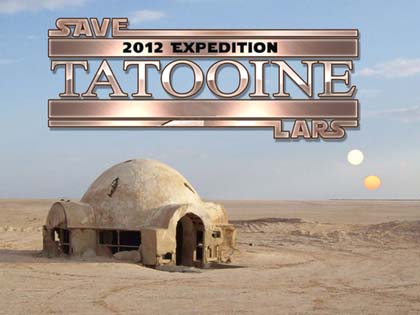 The Prophecy
And in time of greatest despair, there shall come a savior, and he shall be known as : THE SON OF THE SUN.
And he shall bring Balance to the Force.
"Journal of the Whills, 3:12"
Welcome to
Nathaniel Reed's


:: A trilogy of fan-fic set after Episode VI Return of the Jedi, and inspired by George Lucas' historical draft concepts ::
April 2012
General Dodonna greets King Oxus
29th April 2012
Much later in the story of Episode VII Plague of Doom, our heroes have successfully rescued King Oxus and his niece, Alana Seren, from Imperial-held Kessel. Now they have escorted them to the Galactic Alliance's military headquarters on the ocean world of Mon Calamar.
Here, the elderly strategist General Jan Dodonna greets Oxus, and the learns first-hand of the Imperials' dastardly scheme to subjugate the populace of the galaxy using the dociling aura gas. Starting with his home world of Ondos, the King confirms that his people are like puppets in the face of this new and terrifying gas !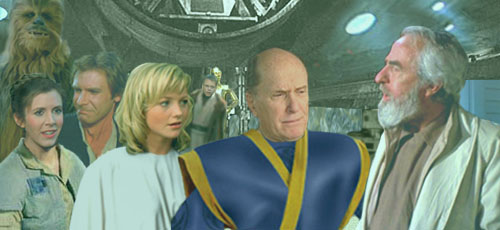 You can see the VE artwork in the 'Mon Cal' art gallery as well as in the online illustrated story, and you can discuss this in the forum here !
The official site recently posted a video interview with one of the supervising technical directors of the Clone Wars show, to illustrate the effort that went into bringing to life the returning character of Darth Maul. The pioneering technology has enabled the animators and lighting effects artists to provide much more subtlety and canonical accuracy in giving this favourite villain life, and the result - for a TV animation - carries great sophistication. I've seen a few clips of Maul's scenes, and they do indeed look very exciting and convincing ! We are assured that great thought went into resurrecting this character and his new story arc, with maximum input from George Lucas himself !
Nathaniel Reed, 29th April 2012