PREQUEL TRILOGY
Episode I
The Phantom Menace
The Virtual Edition
Episode II
Attack of the Clones
The Virtual Edition
Episode III
Revenge of the Sith
The Fans' Virtual Edition
The Spies' Virtual Edition
Trailers
SEQUEL TRILOGY
PORTAL SITE
The Virtual Edition
Episode VII
Plague of Doom
The Virtual Edition
Episode VIII
The Darkness Within
The Virtual Edition
Episode IX
Duel of the Fates
The Virtual Edition
Map of the Star Wars

by Nathaniel Reed, 9/2005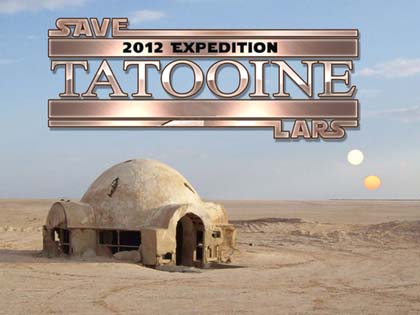 The Prophecy
And in time of greatest despair, there shall come a savior, and he shall be known as : THE SON OF THE SUN.
And he shall bring Balance to the Force.
"Journal of the Whills, 3:12"
Welcome to
Nathaniel Reed's


:: A trilogy of fan-fic set after Episode VI Return of the Jedi, and inspired by George Lucas' historical draft concepts ::
FAQs
April 2014
The cast is announced for the Official Episode VII !
30th April 2014
On the 29th of April, StarWars.com announced the cast for the Official Episode VII ! Publishing a black & white photograph of a cast and primary crew script read-through at Pinewood Studios UK, it finally laid to rest the recent fevered speculation. Many news media outlets picked up on this story, including the BBC in the UK, who also provided picture-profiles of these lead actors.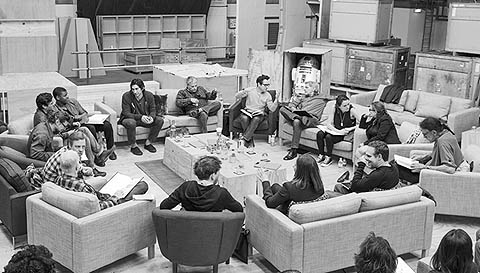 As shown above, the individuals are, clockwise, Writer/Director/Producer J.J Abrams (top center right) with Harrison Ford, Daisy Ridley, Carrie Fisher, Peter Mayhew, Producer Bryan Burk, Lucasfilm President and Producer Kathleen Kennedy, Domhnall Gleeson, Anthony Daniels, Mark Hamill, Andy Serkis, Oscar Isaac, John Boyega, Adam Driver, and Writer Lawrence Kasdan ; R2-D2 in the open crate at the back. [Copyright and Photo Credit : David James.]
The fuller primary cast list - though many believe it's still incomplete - is as follows :

Mark Hamill
Carrie Fisher
Harrison Ford
Peter Mayhew
Anthony Daniels
Kenny Baker


Domhnall Gleeson, irish actor
Daisy Ridley, british actress (and Natalie Portman look alike !!)
John Boyega, british actor (a young Calrissian ??)
Oscar Isaac
Adam Driver [rumoured to be the villain]


Andy Serkis
Max von Sydow
And, if one recalls the character-requirement for the UK & US 'open auditions', first released back in June 2013, then we wonder who's who, and who is left to appear :


Late-teen female, independent, good sense of humour, fit. [Daisy Ridley ?]
Young twenty-something male, witty and smart, fit but not traditionally good looking.
A late twenty-something male, fit, handsome and confident. [Adam Driver ?]
A second young female, also late teens, tough, smart and fit.
Thirty-something male, intellectual. Doesn't need to be fit.
Forty-something male, fit, military type.
Seventy-something male, with strong opinions and tough demeanour. Also doesn't need to be particularly fit. [Max von Sydow ?]
And as has been recently pointed out, if the above character list was seeking two female leads, then perhaps there are more main cast announcements to be made... ??!
Shortly before this announcement, the Official Site also confirmed a re-clarification of continuity lore : to provide the greatest creativity, all post-ROTJ story material would become non-canon. A dedicated story-group was being formed to ensure a single interconnected and cohesive result for all aspects of star Wars story-telling. The new canon would be the existing six movies plus the Filoni-directed Clone Wars series ; in addition, moving forward, would be the new LFL/Disney movies, and the 'SW:Rebels' series. It was implied that this older EU material would not be discarded as such, but would be recognised simply as 'further adventures' ; at the very least, it would be regarded as 'other material' that still exists and that can be mined for inspiration. These announcements tally with the previous rumours from January 2014 that "characters 'similar' to existing EU ones could be introduced into future projects".
Equally, the publishing associates Del-Rey also announced a re-branding of the older EU stories - and potentially all the post-ROTJ stories - under the banner of 'Legends'. This title would jive with the idea that, as with Boba Fett's many and contradictory adventures, this EU material would become more 'myth than historical canon' .... though that's decidedly easier with a single character who is a bounty hunter than a slew of heroes and events across a multitude of timeframes !!!
The publishers also announced new titles due out from the end of this year :

STAR WARS: A NEW DAWN, by John Jackson Miller, due September 2014, set prior to the events of the forthcoming animated series 'SW : Rebels'.

STAR WARS: TARKIN, by James Luceno, due November 2014

STAR WARS: HEIR TO THE JEDI, by Kevin Hearne, due January 2015

STAR WARS: LORDS OF THE SITH, by Paul Kemp, due March 2015

These titles mark a new unified and collaborative approach to canonical story-telling, where LFL/Disney hope to create a more cohesive and linear world.
Returning to our Virtual Edition Sequel Trilogy and Episode VII : Plague of Doom in particular, following on from last month's story illustrations, Leia continues to lead her 'Devil Squadron' against the Imperial aura-gas factory hidden on Kessel. She encourages her anxious rookie Jedi pilots and directs them to follow the Elders' lead in picking off the enemy TIE fighters : this must be done, she says, before they can begin to make their run against the factory !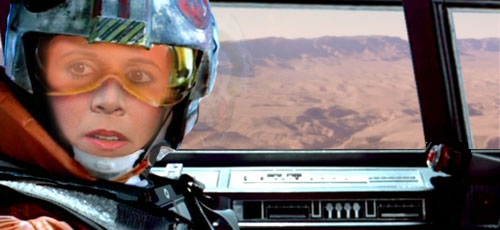 You can see the VE artwork in the 'Kessel' art gallery as well as in the online illustrated story, and you can discuss this in the forum here !
Nathaniel Reed, 30th April 2014