PREQUEL TRILOGY
Episode I
The Phantom Menace
The Virtual Edition
Episode II
Attack of the Clones
The Virtual Edition
Episode III
Revenge of the Sith
The Fans' Virtual Edition
The Spies' Virtual Edition
Trailers
SEQUEL TRILOGY
PORTAL SITE
The Virtual Edition
Episode VII
Plague of Doom
The Virtual Edition
Episode VIII
The Darkness Within
The Virtual Edition
Episode IX
Title tba
The Virtual Edition
Map of the Star Wars

by Nathaniel Reed, 9/2005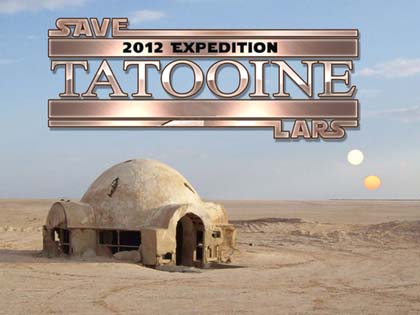 The Prophecy
And in time of greatest despair, there shall come a savior, and he shall be known as : THE SON OF THE SUN.
And he shall bring Balance to the Force.
"Journal of the Whills, 3:12"
Welcome to
Nathaniel Reed's


:: A trilogy of fan-fic set after Episode VI Return of the Jedi, and inspired by George Lucas' historical draft concepts ::
Commander Kane oversees the Imperials' secret operations on Kessel
31st August 2013
Early in the story of our unofficial Sequel Trilogy, Episode VII : Plague of Doom, Commander Kane discusses the development of the secret operations with Doctor Bloodory.
The sly scientist insinuates that if the gas production continues as it has been, then ultimate control would soon lie in Kane's hands ; he could even perhaps wrest control from Emperor Amedda himself ! The eager Commander is keen to publicise his loyalty, and quickly dispels any notion of usurping his bureacratic leader..... but the seeds have been sown, and the Commander begins to mull over how best to promote his own position.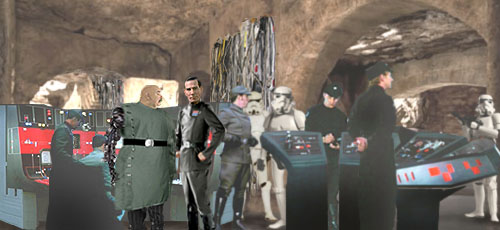 Their discussions are interrupted by an urgent comms call : Captain Prue alerts the Commander to an attack on the tower in which Princess Alana Seren is held captive..... and Kane is astounded to learn that it was conducted by one man !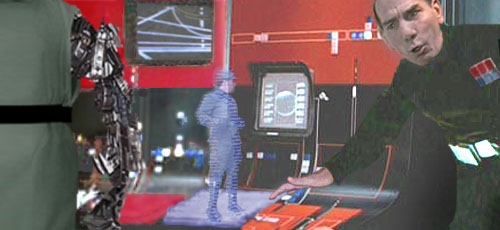 You can see the VE artwork in the 'Kessel' art gallery as well as in the online illustrated story, and you can discuss this in the forum here !
At the end of August it was widely announced that the British Cinematographer, Gilbert Taylor, had died, aged 99. Gil Taylor worked on Episode IV : A New Hope, giving it such an idiosyncratic style for a "western in outer space". Both TFN and BBC reported the news, while the Official Site paid homage on its news page, as well as providing a personal write-up on its Blog service.
LucasFilm Chief Editor, J.W Rinzler, has personally been involved in translating George Lucas' original draft entitled 'The Star Wars' into a Graphic Novel format, allowing fans to finally visualise in true dynamic cinematic form the 'proto' version of the beloved Star Wars ! In his blog, Rinzler provides an insight into the creation of some of the graphic novel adaptation's panels.
Through late August there came a flurry of Episode VII rumours : firstly, that Episode VII would be shot on 35mm standard film negative, rather than straight to digital, the format of two of the Prequels (presumably, there'd be a digital transfer at some point in the post-production process to allow ILM to lay in their effects) ; that the first of the Sequels would begin shooting in january 2014 (as corroborated by other sources)..... but that might mean the film's eventual release could be pushed back to December 2015 ; and that two british actors had been auditioned (if not cast !), namely Alex Pettyfer and Rachel Hurd-Wood. It's fun to pick up on these rumours, but until there's a solid statement from LFL / Disney, we just have to be patient.
One thing I would begin to surmise, though, is that where Mark Hamill had expressed a keen interest in "old school" effects and visuals, akin to the Original Trilogy, a criteria that would help sway his involvement, and these recent rumours and reports of a 35mm celluloid approach and Kathleen Kennedy stating at Celebration Europe II in July that there's great debate behind the scenes for balancing the visual approach, it does make me wonder if Hamill at least - if not Fisher and Ford - has signed up to reprise his role as Luke Skywalker !!
Nathaniel Reed, 31st August 2013