PREQUEL TRILOGY
Episode I
The Phantom Menace
The Virtual Edition
Episode II
Attack of the Clones
The Virtual Edition
Episode III
Revenge of the Sith
The Fans' Virtual Edition
The Spies' Virtual Edition
Trailers
SEQUEL TRILOGY
PORTAL SITE
The Virtual Edition
Episode VII
Plague of Doom
The Virtual Edition
Episode VIII
The Darkness Within
The Virtual Edition
Episode IX
Duel of the Fates
The Virtual Edition
Map of the Star Wars

by Nathaniel Reed, 9/2005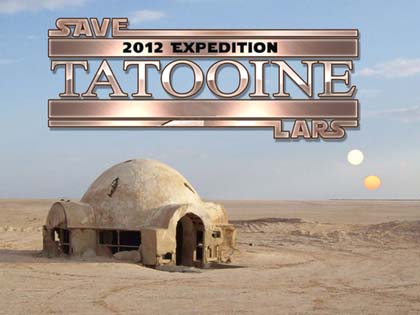 The Prophecy
And in time of greatest despair, there shall come a savior, and he shall be known as : THE SON OF THE SUN.
And he shall bring Balance to the Force.
"Journal of the Whills, 3:12"
Welcome to
Nathaniel Reed's


:: A trilogy of fan-fic set after Episode VI Return of the Jedi, and inspired by George Lucas' historical draft concepts ::
FAQs
February 2015
Han Solo in TFA, flashbacks, and new teaser ??!
28th February 2015
February saw a busy month with Star Wars Episode VII reports and contradictory rumours. Firstly, MSW spilled the beans on Han Solo's possible fate in The Force Awakens : not only with the main villain Kylo Ren involved, but also a possible revelation too !

Alongside that was a very strange rumour-report that declared Luke would only have a few cameos in TFA, primarily in some final scenes and possibly in a flashback sequence. Regarding the "flashback sequence(s)" MSW seemed to have quite some detail, implying a Jedi Academy attack and a search for a lost item ; also a more recent report suggesting that actor Robert Boulter might be playing Luke Skywalker, either in a post-ROTJ timeframe, or even earlier ?

Character names have also surfaced in report or rumour : we seem to have a young Tarkin involved, and the on-set production codename of Kira now might be part of Rey's actual on-screen identity.... especially if Rey and Kylo Ren are siblings.... And the actor Domnhall Gleeson - who has been keeping a very low profile regarding Star Wars - has been associated with the Skywalker line, as well as having both a Rebel and an Imperial agenda - contradictory, confusing, and might even be playing both roles in an undercover ploy.... ?

MSW also published a detailed report on scenes involving a huge freighter, the Falcon inside the freighter, pirates, and Han, Chewie, Rey, and Finn ; unfortunately, at this stage, this report seems to hold many contradictory facts based on what we currently know or assume, particularly Rey's knowledge and role as daughter.
Fansite SW7news reports on a lot of teasing activity ahead of the SW Celebration convention in Anaheim USA in April, suggesting that a new teaser trailer may make an appearance.... !
The latest update for our Virtual Edition of Episode VII : Plague of Doom, has two separate pieces of artwork : continuing the attack run on Kessel and an extra image by co-author and illustrator Scott presenting Doctor Bloodory's laboratory.
Leia Solo leads part of her 'Devil Squadron' deeper into the narrow geyser-filled rift canyon ! Aware of one pilot's loss, she mutters a heart-felt apology to him, and then urges the other wingmates to re-focus !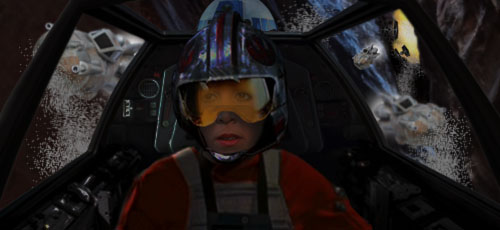 Scott has produced this amazing 'establishing shot' of Doctor Bloodory's laboratory. In the Virtual Edition Episode VII's earlier scene 77, Luke Skywalker and Alana Seren stumble into the evil doctor's laboratory... as they descend the staircase, they discover to their surprise Alana's uncle unconscious on a medical table !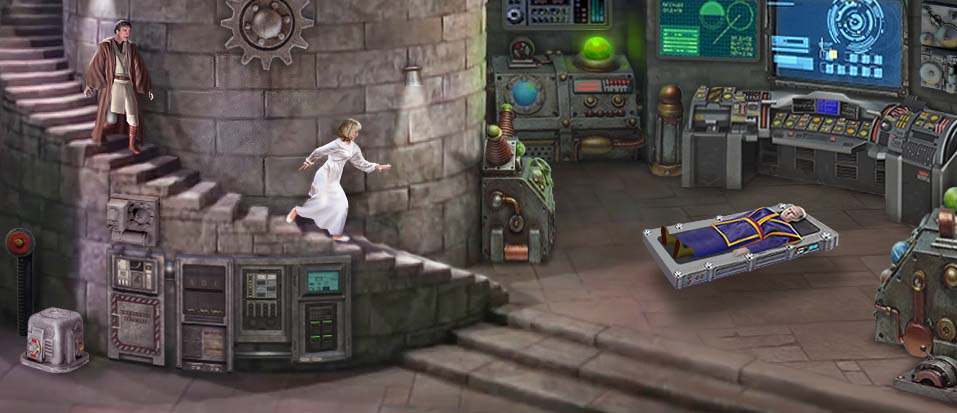 From the very beginning of drafting Plague of Doom Scott was keen to echo the Flash Gordon influences and mesh them in with a swashbuckle setting alongside the gothic elements of Frankenstein.
You can see the VE artwork in the 'Kessel' art gallery as well as in the online illustrated story, and you can discuss this in the forum here !
Nathaniel Reed, 28th February 2015