PREQUEL TRILOGY
Episode I
The Phantom Menace
The Virtual Edition
Episode II
Attack of the Clones
The Virtual Edition
Episode III
Revenge of the Sith
The Fans' Virtual Edition
The Spies' Virtual Edition
Trailers
SEQUEL TRILOGY
PORTAL SITE
The Virtual Edition
Episode VII
Plague of Doom
The Virtual Edition
Episode VIII
The Darkness Within
The Virtual Edition
Episode IX
Duel of the Fates
The Virtual Edition
Map of the Star Wars

by Nathaniel Reed, 9/2005 | 12/2016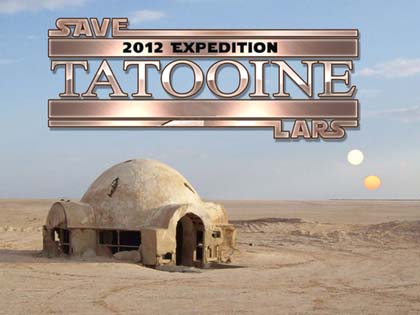 The Prophecy
And in time of greatest despair, there shall come a savior, and he shall be known as : THE SON OF THE SUN.
And he shall bring Balance to the Force.
"Journal of the Whills, 3:12"
Welcome to
Nathaniel Reed's


:: A trilogy of fan-fic set after Episode VI Return of the Jedi, and inspired by George Lucas' historical draft concepts ::
FAQs
February 2018
Solo trailers unveiled !
28th February 2018
The start of February opened with two trailers for the upcoming film SOLO : A Star Wars Story ! An exciting montage of images and dialogue teased us with Han Solo's 'origin story'.





We see Qi'Ra played by Emilia Clarke, who appears to have an influential role having been a childhood friend - or young lover - of Han's. We see and hear Woody Harrelson's character Tobias Beckett who takes the mentor role to Han, and appears to be pulling together a heist gang. Donald Glover immediately charms his way on to the screen as a young Lando Calrissian. Chewie is seen with two bandoliers, as well as accompanying Han in boarding or hijacking a train. And, on this train, we see some sort of alien bounty hunter villain figure. The Falcon gleams in white, with a cargo pod at its mandibles. Snippets of dialogue tell us that Han, always in trouble, moved from the Imperial Flight Academy to a more independent life.

At the moment, I'm undecided about Alden Ehrenreich's portrayal of a young Han Solo, considering we had seen a few years earlier an amazing impersonation of Harrison Ford from ANH by Anthony Ingruber.... who more recently even starred in a feature-length movie as a young Harrison in flash-back playing opposite the older contemporary Harrison !





We shall have to see how the upcoming SOLO movie plays out.....
The extras for the home release (Blu-Ray) of TLJ were released in mid February by the Official Site, and scheduled for release across March and April.


The Director and the Jedi
Balance of the Force
Lighting the Spark : Creating the Space Battle
Snoke and Mirrors
Showdown on Crait
Andy Serkis Live! (One Night Only)
14 Deleted Scenes
Audio Commentary

Fan site SWNN released a list of the deleted scenes too :


Alternate Opening
Paige's Gun Jams
Luke Has a Moment
Poe: Not Much of a Sewer
It's Kind of Weird That You Recorded That
The Caretaker Sizes Up Rey
Caretaker Village Sequence
Extended Fathier Chase
Mega Destroyer Incursion – Extended Version
Rose Bites the Hand That Taunts Her
Phasma Squealed Like a Whoop Hog
Rose & Finn Go To Where They Belong
Rey & Chewie in the Falcon
The Costumes and Creatures of Canto Bight
At the end of January, and then through February, I was able to continue with illustrating the virtual edition Episode VII : Plague of Doom.
Commander Kane discusses Weesla's options as they regard a fleet of Star Destroyers parked outside on the Hutt castle on the salt flats.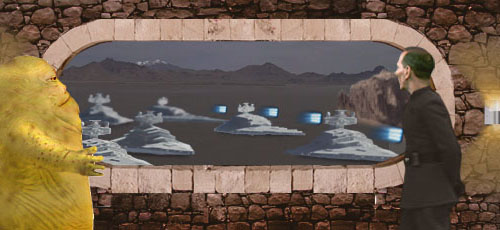 The Imperial Commander then turns and calls out to Captain Prue to have a Huttlet be selected and removed from the holding cell.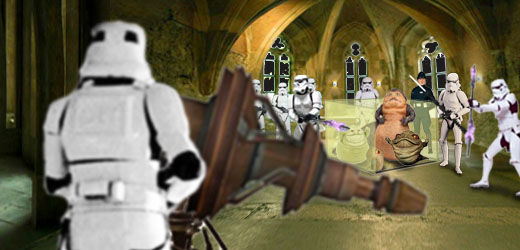 These two images then tie back in to a January 2009 illustration for the same scene, where the chosen Huttlet is executed under the gaze of Barrola the Great Hutt Lord.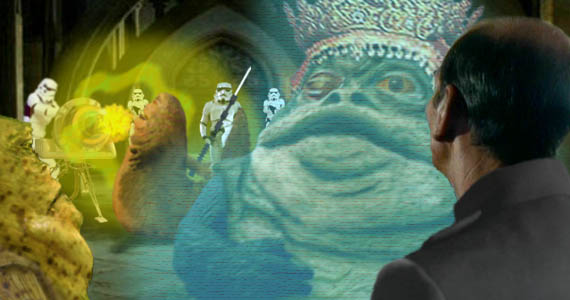 You can see the VE artwork in the 'Kessel' art gallery as well as in the online illustrated story, and you can discuss this in the forum here !
In February, I found the time to drastically review the opening Corellia scene for VE Episode IX Duel of the Fates, and re-write it to hopefully streamline it more. The original scenes possibly elaborated on what appeared to be a further and unnecessary negotiation between the Transportation Union and the Galactic Alliance. Now I give the implication that the Corellian Prime Minister is in fact a puppet of the Baron who owns the Union. Both sequences still lead to the same conclusion, but with the original obviously too long, I'm hoping that this new approach will help trim the pace !
And finally, at the end of this month, a Star Wars fan who had been 'lurking' around this site and had been following the development of the VE-ST, had spotted my recent report that I had "nearly completed Episode IX", and had contacted me asking if he could read the latest version ! I obliged, and amazingly Dave not only found the time to read the mighty opus, but he was gracious enough to provide some constructive feedback : overall he really enjoyed it, he questioned some elements of character and plot, and picked out several lines of dialogue that could be re-phrased.

He said, "it truly was a satisfying conclusion to your fictional Sequel Trilogy. Well worth the wait !" ; and that he "appreciated Leia being the central figure of the story. In a way this makes it like the Episode IX we'll never see, as she was reportedly meant to play a significant role in the film before Carrie's tragic passing altered those plans" ; and he agreed that "your trilogy (at least as a story) can hold its own against the current crop of Disney sequels" ; and he noted that "you're unafraid to not only reference but show reverence to the prequels..... you've found ways to tie everything back to the most pivotal events of those films".


Hearing this from a completely independant revewier, after about 5 years writing this episode, and at least 12 years conceiving and writing the whole VE-ST, has been refreshing and heart-warming, and (almost) re-energised me in completing this project..... and possibly to elaborate further on the thoughts swirling around my head of an Episode X and beyond !
Nathaniel Reed, 28th February 2018