Episode I
The Phantom Menace
The Virtual Edition
Episode II
Attack of the Clones
The Virtual Edition
Episode III
Revenge of the Sith
The Fans' Virtual Edition
The Spies' Virtual Edition
Trailers
Episode VII
Plague of Doom
The Virtual Edition
Episode VIII
The Darkness Within
The Virtual Edition
Episode IX
Title tba
The Virtual Edition
Map of the Star Wars

by Nathaniel Reed, 9/2005
The Prophecy
And in time of greatest despair, there shall come a savior, and he shall be known as : THE SON OF THE SUN.
And he shall bring Balance to the Force.
"Journal of the Whills, 3:12"
Welcome to
Roderick Vonhögen's
Virtual Edition
July 2009
The brave and feisty Princess Alana Seren !
27th July 2009
Having been informed that the Ondos captive is none other than Princess Alana Seren, the Imperial Commander Kane gleefully visits the holding tower to gloat over the valuable prisoner.
Alana heroically protests against her captivity, vowing that her uncle, the king of Ondos, will never let his people fall under the sway of Imperial domination. Kane is impressed with the girl's spirit, but assures her that her hoped-for alliance with the populist rebel movement has failed, and such an outburst has inspired his choice for the next test candidacy for Doctor Bloodory's experiments.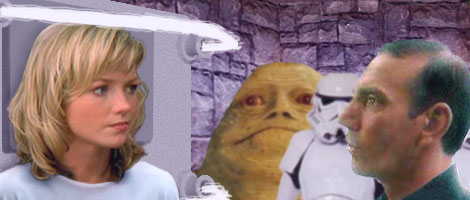 Done with his meeting, Kane sharply brings his audience to a close. He orders one of the accompanying stormtroopers to re-activate the purple aurra spice gas and containment energy binders, and Alana falls silent.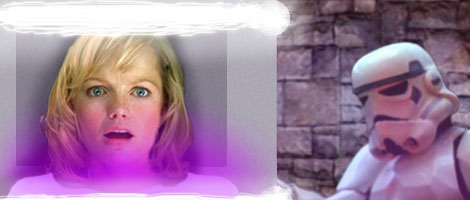 You can see the VE artwork in the 'Kessel' art gallery as well as in the online illustrated story, and you can discuss it in the forum here !
In official news, the Clone Wars Season 1 dvd & Blu-Ray boxset details for November 2009 have been released. Also, the 'Star Wars : In Concert : A Musical Journey' begins its worldwide tour, in Anaheim, California, in October 2009.
Nathaniel Reed, 27th July 2009