PREQUEL TRILOGY
Episode I
The Phantom Menace
The Virtual Edition
Episode II
Attack of the Clones
The Virtual Edition
Episode III
Revenge of the Sith
The Fans' Virtual Edition
The Spies' Virtual Edition
Trailers
SEQUEL TRILOGY
PORTAL SITE
The Virtual Edition
Episode VII
Plague of Doom
The Virtual Edition
Episode VIII
The Darkness Within
The Virtual Edition
Episode IX
Duel of the Fates
The Virtual Edition
Map of the Star Wars

by Nathaniel Reed, 9/2005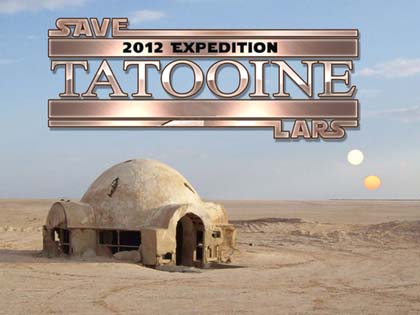 The Prophecy
And in time of greatest despair, there shall come a savior, and he shall be known as : THE SON OF THE SUN.
And he shall bring Balance to the Force.
"Journal of the Whills, 3:12"
Welcome to
Nathaniel Reed's


:: A trilogy of fan-fic set after Episode VI Return of the Jedi, and inspired by George Lucas' historical draft concepts ::
FAQs
July 2016
Episode VIII wraps principal photography !
30th July 2016
At the end of July, the Official site confirmed that Star Wars Episode VIII had wrapped principal photography. Notwithstanding any scheduled reshoots, the movie has now entered its full post-production stage. Recently, the director Rian Johnson revealed that many classic films had influenced the writing of this episode, including the war-time movie 'Twevle O'Clock High' which centres around the challenges and dynamics of re-building a team following the loss of a much-loved leader.
Over a long weekend in mid July, London hosted the 'Celebration Europe' event for the second time. Its focus was primarily on the upcoming A Star Wars Story : Rogue One, and a 'Behind-the-Scenes' production reel was released revealing much more about this first stand-alone film ! Many settings and characters were unveiled, along with the new planet names of 'Scarif ' (a tropical world) and 'Jedha ' (a world described as sympathetic to the Jedi and a 'spiritual' home for that Order and the Force). Furthermore, Kathleen Kennedy revealed that director Gareth Edwards' hand-held guerilla style of camera-work lent itself greatly to what they envisioned for Rogue One ; and that the concept for the film - from ILMer John Knoll - dated back over a decade ago to when story ideas were being proposed and developed for the live-action TV series.

And an additional SW:CE-only exclusive teaser trailer apparently showed the return of Darth Vader, with new dialogue by James Earl Jones !
And while at SW:CE, the many rumours were finally confirmed with Alden Ehrenreich being presented as the new young Han Solo for the second stand-alone movie focusing on the early adventures of the Corellian smuggler......
In the illustrated fan-fic Episode VII : Plague of Doom the space battle above Imperial-held Kessel continues apace, and a B-Wing pilot finds themselves targetted in dangerous crossfire from pursuing TIE fighters !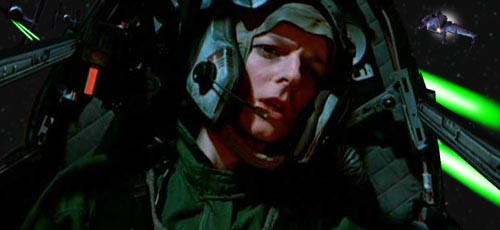 As the B-Wings are destroyed, Wedge Antilles fears the worst as the situation above Kessel becomes more grim ! Then suddenly a familiar voice hails across his intercom, and he grins with relief !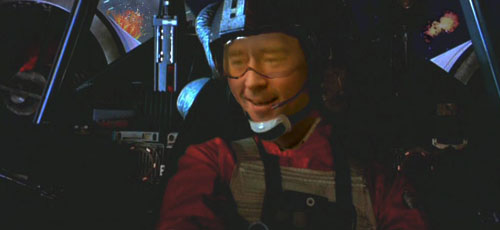 You can see the VE artwork in the 'Kessel' art gallery as well as in the online illustrated story, and you can discuss this in the forum here !
Nathaniel Reed, 30th July 2016