PREQUEL TRILOGY
Episode I
The Phantom Menace
The Virtual Edition
Episode II
Attack of the Clones
The Virtual Edition
Episode III
Revenge of the Sith
The Fans' Virtual Edition
The Spies' Virtual Edition
Trailers
SEQUEL TRILOGY
PORTAL SITE
The Virtual Edition
Episode VII
Plague of Doom
The Virtual Edition
Episode VIII
The Darkness Within
The Virtual Edition
Episode IX
Duel of the Fates
The Virtual Edition
Map of the Star Wars

by Nathaniel Reed, 9/2005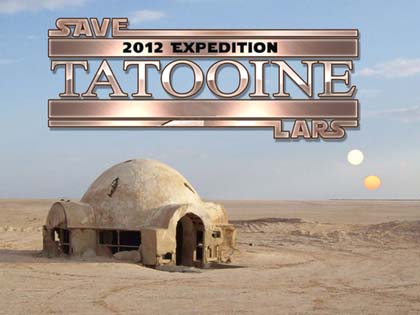 The Prophecy
And in time of greatest despair, there shall come a savior, and he shall be known as : THE SON OF THE SUN.
And he shall bring Balance to the Force.
"Journal of the Whills, 3:12"
Welcome to
Nathaniel Reed's


:: A trilogy of fan-fic set after Episode VI Return of the Jedi, and inspired by George Lucas' historical draft concepts ::
FAQs
June 2016
ROGUE ONE characters revealed !
30th June 2016
At the end of June , the U.S. entertainment magazine 'EW' exclusively revealed pictures as well as character summaries for Rogue One : A Star Wars Story ! With 6 months to go to release, and 'Celebration Europe (London)' just around the corner in mid July, the publicity material and excitement will begin to ramp up !


Jyn Erso - Felicity Jones - A streetwise delinquent who has been on her own since 15, she has fighting skills and a knowledge of the galactic underworld that the Rebel Alliance desperately needs.
Galen Erso - Mads Mikkelsen - Jyn's estranged father is like the galactic version of nuclear pioneer J. Robert Oppenheimer, with doomsday knowledge that is sought by both the Empire and the Rebellion, one of those people that has insight into just how the universe works.
Captain Cassian Andor - Diego Luna - Andor is a reliable and robust Rebel intelligence officer, brought in to steady the volatile Erso. He's committed, steady, and practical, and has seen more than his share of combat.
Chirrut Imwe - Donnie Yen - He's devoted to the ways of the Jedi, but is no Jedi Knight, and has used his spirituality to overcome his blindness and become a formidable warrior.
Baze Malbus - Jiang Wen - Heavily armored, Baze prefers a blaster to hokey religions and ancient weapons, but he is devoted to protecting his friend Chirrut at all costs.
Bodhi Rook - Riz Ahmed - Bodhi is this Rebel squad's lead pilot. He tends to be hot-headed, but any abrasiveness is overshadowed by his flying skills.
K-2SO - Alan Tudyk - This towering, powerful security droid is tough and confident, and speaks plainly and boldly.
Saw Gerrera - Forest Whitaker - He was one of the leaders of the Onderon rebels and helped lead the resistance movement to victory over the Confederacy of Independent Systems on Onderon during the Clone Wars. He later led a rebel cell locally in the resistance against the Galactic Empire. His character has already been portrayed in the official Clone Wars TV Series, and was originally an idea developed by Lucas for the cancelled Live-Action TV Show, before being re-worked for the Clone Wars Show. The character was apparently instrumental in conceiving the Rebellion, but such were his controversial actions that he remained on the fringes of the sphere inhabited by the likes of Mothma, Organa, and Dodonna.
Director Orson Krennic - Ben Mendelsohn - This ambitious Imperial Officer intends to use his squad of Deathtroopers to pulverize the Rebel uprising and ascend into the Emperor's graces.... while hopefully avoiding the wrath of his enforcer, Darth Vader.


Furthermore, director Gareth Edwards points out that "this idea that magical beings - the Jedi - are going to come and save everyone, is going away, and it's up to normal, everyday people to take a stand to stop evil from dominating the world." Co-creator and ILMer John Knoll revealed that "There is a lot of palace intrigue going on in the Empire, with people conspiring to move up the ranks and sabotaging each other. There's not a lot of loyalty there."
In addition , EW confirmed that iconic actor and voice artist James Earl Jones will indeed be returning as Darth Vader ! There has been much speculation as to how much screen time Vader will have in Rogue One, and how much physical action he may be involved in - will he simply be seen on the Star Destroyer Devastator, or will he actually be fighting the rebel spies ??!
LFL President Kathleen Kennedy, interestingly, has revealed that an ongoing creative discussion is regarding the use of the famous 'Opening Crawl' motif for Rogue One, wondering if stylistically they should break away from the 'Saga' films and not have the Crawl, or whether to retain such an iconic visual cue.
SWNN recently posted an article linking to a Games magazine that had interviewed a games developer, and former LFL employee, who apparently had had the opportunity to review and pre-develop scripts for the proposed TV series, Star Wars Underworld. An interesting tidbit concerning the evil core of the Star Wars Galaxy, Emperor Palpatine, was described : Cory Barlog revealed that they had "made the Emperor a sympathetic figure who [had been] wronged by this heartless woman. She was this hardcore gangster, and she just totally destroyed him as a person".

The implication, obviously, is that someone else spurred Palpatine on to his evil path, either in the agenda of securing power, and/or in corrupting his moral compass. Some would think that a story such as Star Wars requires a solely evil persona to drive the story forward and does not need to explain or justify that persona ; but Lucas had always said in regard to Anakin that no-one is born evil, how they reach that point is the more interesting story. So it's entirely conceivable that Lucas had had an idea in his mind for a backstory that justified Palpatine's path.
In the illustrated fan-fic Episode VII : Plague of Doom the space battle above Imperial-held Kessel continues in a frenzy ! As Wedge Antilles dives away from the explosion, he watches in despair as his wingman is blasted into fiery sparks by the pursuing TIE fighters !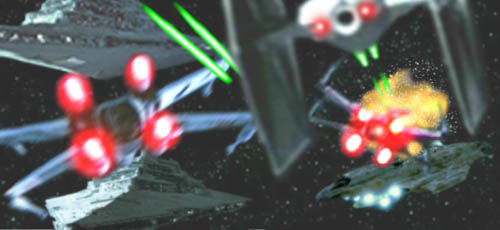 Just then, a B-Wing bomber races overhead and takes out one of the two TIE fighters ! The other enemy fighter rolls away, but yet another picks up on the B-Wing's tail !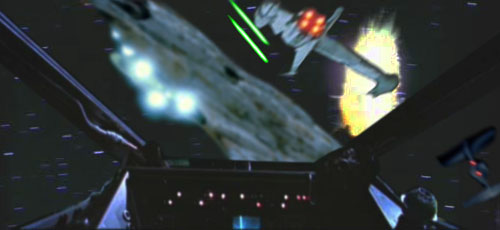 You can see the VE artwork in the 'Kessel' art gallery as well as in the online illustrated story, and you can discuss this in the forum here !
Nathaniel Reed, 30th June 2016