Welcome to
Nathaniel Reed's


:: A trilogy of fan-fic set after Episode VI Return of the Jedi, and inspired by George Lucas' historical draft concepts ::
November 2012
Reactions to the Aquilae Base briefing..... and Arndt to write Episode VII !
30th November 2012
Continuing our fanfic for Episode VII, deep inside Aquilae Base on the water world of Mon Calamar, reactions follow the Kessel briefing and the Galactic Alliance's plan for attack.
Having completed her outline of events, Leia requests that the generals allow her Jedi-pilot cadre known as 'Devil Group' to lead the direct assault against the Imperial gas factory below the old Hutt castle on Kessel. The Alliance generals confer, then agree with her praise for the Force-skilled rookie pilots !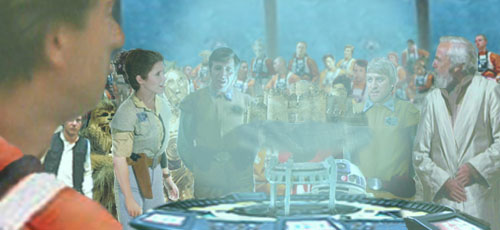 This bold request from Leia brings surprise from the 'Devil Group' pilots themselves ! One young Jedi, Justin Valor, acknowledges Leia's praise andconfidence in their ability, but wonders aloud if their group hasn't unwittingly signed up for a suicide mission ! Sat next to him is veteran pilot, Wedge Antilles, who reassures him that he was flying such missions when he was his age !!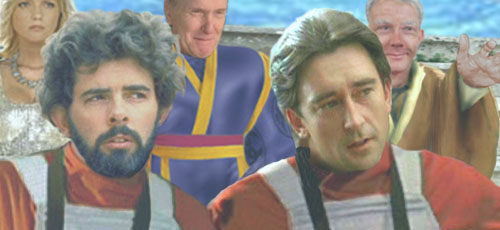 Yes, that is a young George Lucas playing the part of Jedi pilot Justin Valor !
:o)
Just behind the pilots sit Luke and the other Jedi Masters, alongside King Oxus and Princess Alana Seren of Ondos. The Jedi Elder Dree Tan speaks up, and offers Leia his help and that of the other recently arrived Jedi Masters. The atmosphere is more positive and bouyant now, and Luke is proud of both his sister and the aged Jedi.
You can see the VE artwork in the 'Mon Cal' art gallery as well as in the online illustrated story, and you can discuss this in the forum here !
Following last month's exciting news regarding the Lucasfilm sale to Disney and the announcement of a new Official Sequel Trilogy, the not-unexpected flurry of comment, rumour, and breaking news appeared. Out of it came the announcement that Michael Arndt would write the screenplay for Episode VII ! Arndt is known for the very popular Toy Story 3, and Little Miss Sunshine, among others.
Also, the official site has confirmed USA release dates for the 3D versions of Attack of the Clones and Revenge of the Sith of autumn 2013.
The old discussion forum has started to attract the old timers and a new face or two, so it's great to slip back into the fun of mature debate and discussion after such a long period of silence !
Nathaniel Reed, 30th November 2012