Episode I
The Phantom Menace
The Virtual Edition
Episode II
Attack of the Clones
The Virtual Edition
Episode III
Revenge of the Sith
The Fans' Virtual Edition
The Spies' Virtual Edition
Trailers
Episode VII
Plague of Doom
The Virtual Edition
Episode VIII
Title tba
The Virtual Edition
Episode IX
Title tba
The Virtual Edition
Map of the Star Wars

by Nathaniel Reed, 9/2005
The Prophecy
And in time of greatest despair, there shall come a savior, and he shall be known as : THE SON OF THE SUN.
And he shall bring Balance to the Force.
"Journal of the Whills, 3:12"
Welcome to
Roderick Vonhögen's
Virtual Edition
October 2008
Departing Coruscant
25th October 2008
With the Imperial Palace - the former Jedi Temple - now standing empty, and the unresolved pursuit of a Sith Lord puzzling Luke, the young Jedi, Princess Alana Seren, and Mon Mothma depart Coruscant and make their way to Mon Calamar. At the military headquarters of the Galactic Alliance on Aquilae Base, the engima can be discussed at length.
See-Threepio accelerates the shuttle to lightspeed and successfully enters hyperspace. Piloting such a ship is not beyond the protocol dorid, for over twenty years before, and yet unbeknownst to his current memory drive, he ensured that Luke's mother, Padme Amidala Naberrie, was taken to a safe refuge at the Polis Masa medical centre.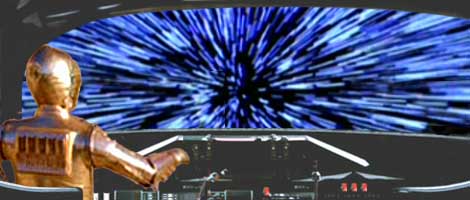 As Threepio announces the successful entry into hyperspace, Luke discusses the events at the Imperial Palace with Mon Mothma. The leader of the Galactic Alliance responds gravely to the news that the Sith may have resurfaced, and Alana Seren, who drew upon her fledgling Force powers to help Luke at the former Jedi Temple, agrees that the dark-clad Sly Moore who fought the Jedi Knight must surely be in league with Emperor Mas Amedda !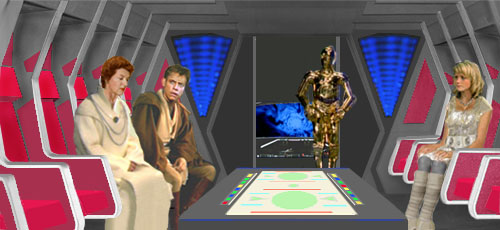 The image of the shuttle cabin above was prepped by Scott who took the black & white photograph of the Tyderium interior set from John Knoll's 'Star Wars Sets' book, and 'cleaned the plate' sufficiently to allow me to incorporate the figures. Scott's amazing work can be fully appreciated by reviewing the original image here...
This new artwork can be seen in the 'Coruscant' gallery here.
Discuss the VE artwork in the forum here !
At the end of the month, the Official Site published a 10 page article looking at the history of mapping the Millennium Falcon. The latest floor plans of this iconic ship can be found in the box set 'The Ultimate Blueprints Collection' released in August this year. Although this set is controversial for its title and price-for-content, the fascinating online article is fairly comprehensive in its summary of the historical records for the Falcon, as well as the creative process involved in producing this latest and hopefully definitive edition. Australian fan Robert Brown produced a breathtaking online study of this ship many years ago, but this article and finished result shows an equally admirable dedication to in-lore accuracy.
Nathaniel Reed, 25th October 2008