PREQUEL TRILOGY
Episode I
The Phantom Menace
The Virtual Edition
Episode II
Attack of the Clones
The Virtual Edition
Episode III
Revenge of the Sith
The Fans' Virtual Edition
The Spies' Virtual Edition
Trailers
SEQUEL TRILOGY
PORTAL SITE
The Virtual Edition
Episode VII
Plague of Doom
The Virtual Edition
Episode VIII
The Darkness Within
The Virtual Edition
Episode IX
Title tba
The Virtual Edition
Map of the Star Wars

by Nathaniel Reed, 9/2005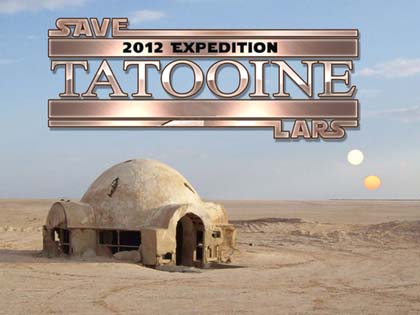 The Prophecy
And in time of greatest despair, there shall come a savior, and he shall be known as : THE SON OF THE SUN.
And he shall bring Balance to the Force.
"Journal of the Whills, 3:12"
Welcome to
Nathaniel Reed's


:: A trilogy of fan-fic set after Episode VI Return of the Jedi, and inspired by George Lucas' historical draft concepts ::
October 2013
Kane and Bloodory investigate the disruptions
28th October 2013
In Episode VII : Plague of Doom, the illustrated fan-fic, the Imperial Commander, Kane, and his scientist, Doctor Bloodory, have been reviewing the progress of the aura gas emitting drones. They are interrupted by not only reports of an intruder in the castle complex, but also by the Second Emperor himself, Mas Amedda, demanding a progress update !
As Commander Kane turns to leave the control centre situated deep within the vaults of the Hutt castle on kessel, Doctor Bloodory spots an alarm on nearby monitors tracking the gas production. Kane angrily retorts that they can't afford to run into any problems this close to unrolling the gas droids across the star systems ! Kane then leaves with a squad of troopers, while Bloodory says he will investigate the cause of the falling gas levels.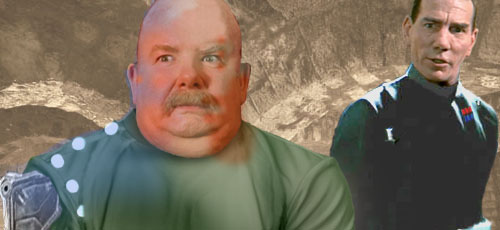 You can see the VE artwork in the 'Kessel' art gallery as well as in the online illustrated story, and you can discuss this in the forum here !
At the end of October, the Official Site released a list of the primary technical crew signed up for Episode VII. The site reported that "location scouting, production design, casting, and costume design are already underway," and that "shooting is scheduled to begin Spring 2014 at Pinewood Studios, UK, for an expected 2015 release."

Ben Burtt (sound designer)
Dan Mindel (director of photography)
Rick Carter and Darren Gilford (production designers)
Michael Kaplan (costume designer)
Chris Corbould (special effects supervisor)
Gary Rydstrom (re-recording mixer)
Matthew Wood (supervising sound editor), Skywalker Sound
Roger Guyett (visual effects supervisor), ILM
Tommy Harper and Jason McGatlin (executive producers)

And of course we can add the previously announced veteran Prequel Trilogy concept artists, Doug Chiang and Iain McCaig, as well as John Williams for music score.

This was on the back of revealing that 'Stand-Alone Movies' producer / writer Lawrence Kasdan will be joining director Abrams in writing the screenplay that had been previously worked on by Michael Arndt. This begs the question whether Arndt had only ever been contracted to write an initial screenplay from Lucas' notes, or to draft all the screenplay iterations, and thus something has happened for him to be taken off the project. However, Lucasfilm president Kathleen Kennedy said, "Michael Arndt has done a terrific job bringing us to this point and we have an amazing filmmaking and design team in place already prepping for production."
In other related Episode VII news, George Lucas' adopted son, Jett, recently revealed that he has been following the Episode VII production closely, and in a position to reveal that Lucas and Abrams have been collaborating closely ; there's a great story in place ; he'd hope to see "the next generation" come to the fore ; and that Lucas revealed to his family that he had been revisiting the Star Wars universe "for about 6 months", about 6 months before he took the franchise to Disney... so a good 12 months work of research and writing had already taken place.

Also, earlier in October, TFN was reporting on the rumour that irish actress Saoirse Ronan had, in audition, pretended to unwittingly retrieve a lightsabre handle from a bag, before igniting it and wielding it !

Later in the month, TFN also reported on a Harrison Ford rumour that the actor had not only signed for a multi-film contract, as pressed for by Disney, but that he had wanted evidence of a character arc.
This would be interesting as I would have pegged Ford as pushing for his character's demise relatively early on, since he had been keen to introduce such dramatic gravitas in Episode VI.
In other Official news from October, Season Five that closes the Clone Wars 3D animated series was released on DVD and BluRay Disc formats, along with a new 1-5 season compilation boxset ; however, the bonus content of extra, previously unfinished, stories will be made available at a later date.

And the Clone Wars' series successor, Star Wars : Rebels, had news of its own : the show's villain will be the 'Sith Inquisitor', as revealed by Dave Filoni along with new McQuarrie-inspired artwork at the New York ComicCon. Filoni also confirmed the series would be set 14 years after Revenge of the Sith.
J.W. Rinzler's final Original Trilogy tome, 'The Making of Return of the Jedi', was published at the beginning of October, and many media outlets reported on this 30th anniversary release with various known and unknown snippets from the book. Later in the month, Rinzler listed the 'extras' that could be found in all three e-book publications, with audio and video items such as interviews with Lucas, Kirshner, and Marquand, and screen tests and discarded footage.
Finally, further Disneyland rumours surfaced regarding the Star Wars themed section of their resort : namely, a full-size Millennium Falcon, a cantina, an ewok village, speeder bike chases and more ! If this were true, although it would be but a section of the host Disney park tucked away into a (large) corner, and not a stand-alone SW theme park, it would certainly be something any fan would dearly love to visit and immerse themselves in ! :o)
Nathaniel Reed, 28th October 2013