Episode I
The Phantom Menace
The Virtual Edition
Episode II
Attack of the Clones
The Virtual Edition
Episode III
Revenge of the Sith
The Fans' Virtual Edition
The Spies' Virtual Edition
Trailers
Episode VII
Plague of Doom
The Virtual Edition
Episode VIII
The Darkness Within
The Virtual Edition
Episode IX
Title tba
The Virtual Edition
Map of the Star Wars

by Nathaniel Reed, 9/2005
The Prophecy
And in time of greatest despair, there shall come a savior, and he shall be known as : THE SON OF THE SUN.
And he shall bring Balance to the Force.
"Journal of the Whills, 3:12"
Welcome to
Roderick Vonhögen's
Virtual Edition
September 2009
King Oxus reveals details of the ambush
26th September 2009
Having greeted our heroes' arrival to his planet, King Oxus leads Han and the others into the city of Ton-Mumdo below. The agri-city harnesses the wind power and the grassy eco-system to cultivate herbs and plants throughout its corridors and chambers.
In one meeting room, the group settles down in comfortable low chairs, and the sentry closes the door to ensure privacy. Han, Leia, Luke, and the droids listen attentively to what king Oxus has to say, and regards the charred machinery recovered from the ambush site with interest.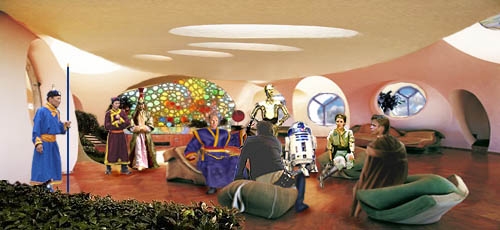 The setting was inspired by British artist Roger Dean's interior architecture for his curvo-linear home, as well as the 'Nautilus House' of Mexico. The rounded nature of the structure, as well as the grass and plant inclusion, lends itself superbly to the Ondos culture.
In official news, SW.com has revealed details of the upcoming Clone Wars series 2 : Rise of the Bounty Hunters. George Lucas and Dave Filoni are interviewed in this article, while a transcript of the press report is given here. The trailer for the new series was recently unveiled too, and can be found here.
You can see the VE artwork in the 'Ondos' art gallery as well as in the online illustrated story, and you can discuss this and the Clone Wars series 2 news in the forum here !
Nathaniel Reed, 26th September 2009