PREQUEL TRILOGY
Episode I
The Phantom Menace
The Virtual Edition
Episode II
Attack of the Clones
The Virtual Edition
Episode III
Revenge of the Sith
The Fans' Virtual Edition
The Spies' Virtual Edition
Trailers
SEQUEL TRILOGY
PORTAL SITE
The Virtual Edition
Episode VII
Plague of Doom
The Virtual Edition
Episode VIII
The Darkness Within
The Virtual Edition
Episode IX
Title tba
The Virtual Edition
Map of the Star Wars

by Nathaniel Reed, 9/2005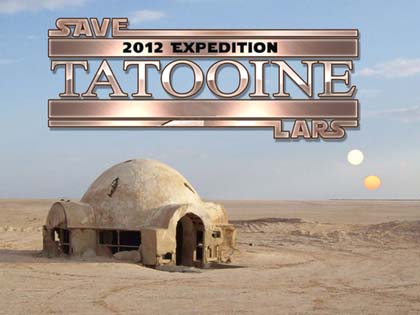 The Prophecy
And in time of greatest despair, there shall come a savior, and he shall be known as : THE SON OF THE SUN.
And he shall bring Balance to the Force.
"Journal of the Whills, 3:12"
Welcome to
Nathaniel Reed's


:: A trilogy of fan-fic set after Episode VI Return of the Jedi, and inspired by George Lucas' historical draft concepts ::
September 2011
Bungle Range jalopy !
30th September 2011
Han and Chewbacca fly our heroes as they escape the Hutt mining facility recently commandeered by Commander Kane.
They expect to be pursued by Imperial TIEs and soon enough Han spots them ! Chewie boldly suggests that they race ahead to the Bungle Range rather than stop and fight.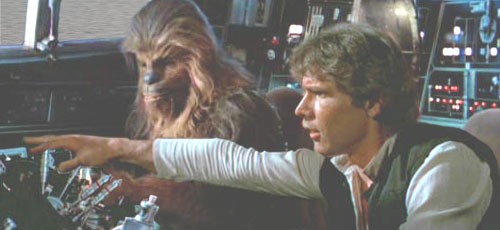 The Falcon races towards the Bungle Range, hotly pursued by four TIE fighters !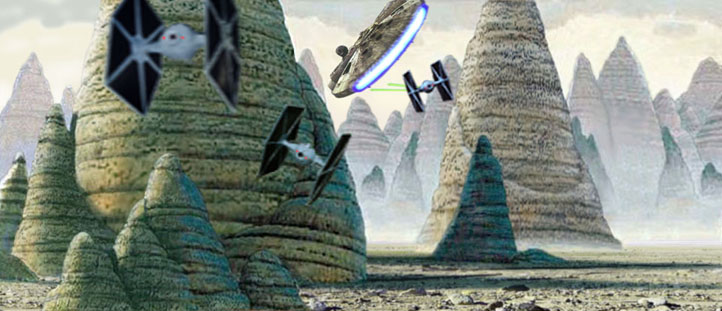 Han deftly flies low and tight around the huge rock formations, leading the TIEs deeper into the Bungle range.
Han is doing six things at once, flying on intuition and fingertips ! He still manages a returning quip, though, when Chewie complains that this might not have been such a good idea !!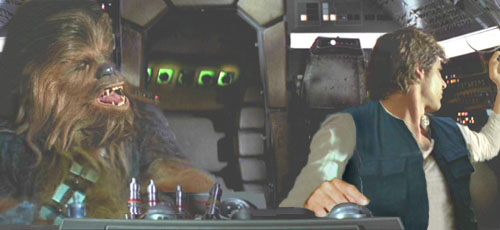 The Falcon begins to gain a lead, and rounds a corner, with the TIEs falling out of sight. Han warns Luke to get ready in the lower quad gun turret......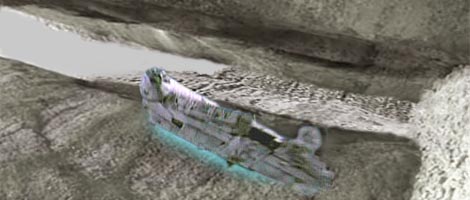 There is in fact a mountain range called 'Bungle', located in Australia, and it's images from this range that has provided source material for our Kessel location, as well as inspiring its name ! The sharp-eyed Star Wars fan might also notice the similarity to old Ralph McQuarrie artwork, namely the 'Killik towers of Alderaan', as seen here at the Wookieepedia.
You can see the VE artwork in the 'Kessel' art gallery as well as in the online illustrated story, and you can discuss this in the forum here !
Accompanying the release of the Blu Ray sets, the official site has redesigned with a new look focusing more on Saga content. Strangely and infuriatingly, all previous content and links to it has now been lost !!! I hope that the archived content, if not the direct links, will be re-instated over time.... but I fear that this may not be the case. Once again there seems little forethought in continuity and presentation - I recall the superb picture series of in-depth BTS and in-lore trivia that began with ANH.... but was never finished, let alone continued into the other episodes ! Furthermore, interestingly, much of the 'databank' content now links to the public-run open-source Wookieepedia. The Offical site now hosts a selection of video clips and blog links, but the wealth of canon and EU material is being officially sourced from the web. Personally, I find this a shame, as it was always nice to know that the latest official news and canonical content for Star Wars would be found at starwars.com. One assumes that the prohibitive costs in the (second) twilight of the franchise has determined this course of action.
Nathaniel Reed, 30th September 2011