PREQUEL TRILOGY
Episode I
The Phantom Menace
The Virtual Edition
Episode II
Attack of the Clones
The Virtual Edition
Episode III
Revenge of the Sith
The Fans' Virtual Edition
The Spies' Virtual Edition
Trailers
SEQUEL TRILOGY
PORTAL SITE
The Virtual Edition
Episode VII
Plague of Doom
The Virtual Edition
Episode VIII
The Darkness Within
The Virtual Edition
Episode IX
Title tba
The Virtual Edition
Map of the Star Wars

by Nathaniel Reed, 9/2005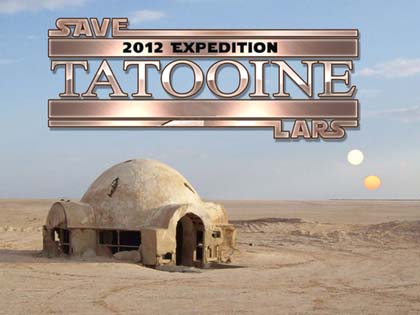 The Prophecy
And in time of greatest despair, there shall come a savior, and he shall be known as : THE SON OF THE SUN.
And he shall bring Balance to the Force.
"Journal of the Whills, 3:12"
Welcome to
Nathaniel Reed's


:: A trilogy of fan-fic set after Episode VI Return of the Jedi, and inspired by George Lucas' historical draft concepts ::
September 2013
Emperor Amedda demands an update from Kane and Bloodory
30th September 2013
As Commander Kane and Doctor Bloodory turn to leave the Imperial Operations command centre deep inside the Hutt castle on Kessel, an officer approaches them : Emperor Mas Amedda demands an update on their progress with the dociling aura gas !
In our fan-fic version of Episode VII : Plague of Doom, the scientist is anxious about the delays brought on by Kane's insistence that the stubborness shown by King Oxus of Ondos should be punished. For his part, Kane dismisses Bloodory's concerns, and advises him to refrain from revealing the recent one-man attack on the tower holding Princess Alana Seren !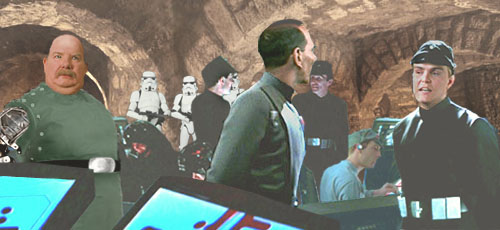 Emperor Mas Amedda is not happy to learn that the full-scale invasion of the gas droids has been delayed ! Kane and Bloodory assuage his concerns with a technical update, but they are fully aware that they must resolve the recent security disturbance quickly and complete the aura gas droid outfitting. The seven Star Destroyers are waiting to lift off !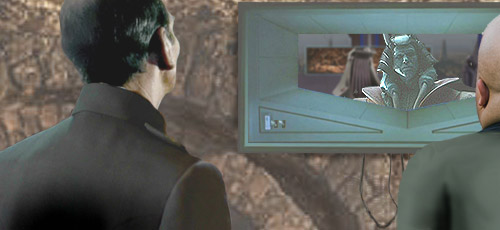 You can see the VE artwork in the 'Kessel' art gallery as well as in the online illustrated story, and you can discuss this in the forum here !
Throughout September, there was a flurry of Episode VII rumours relating to auditioning, casting, and locations. British actor Benedict Cumberbatch has been tied to the OST by several sources now, and possibly playing a villain (Sith Lord ?) ; he had recently starred in Episode VII director's second Star Trek movie.

Meanwhile, british actor David Oyelowo may have been cast in both Star Wars : Rebels and Episode VII, this being that he would play, across the years, either the same character or members of the same family.

Equally, casting requirements have surfaced looking for very tall actors with slender frames, even seeking specific physical dimensions.... which has prompted people to speculate that Chewbacca will be returning.

Also, irish actress Soarsie Ronan is specifically said to have auditioned for the Sequel film. And locations-wise, Las Cruces in New Mexico seems to be gaining much referencing in reports.....

More 'solidly', director JJ Abrams has addressed some people's fears that the new franchise owner will 'Disney-fy' the Star Wars universe, saying that the Studio is "aware" of that and categorically would not go down that path.
A report recently surfaced detailing the timeframe for the new Star Wars : Rebels 3D CG animated series. Namely, set eleven years before Episode IV : A New Hope, making the Skywalker Twins - who would not be seen - about eight years old. Interesting stuff, but personally I'd think it'd be important to 'touch base' on Luke and Leia, even if only the once, as 'anchor points' ; not to mention, these two characters would become instrumental in the rebellion against the Imperial New Order !
In other news, John Williams' Star Wars fanfare was recently voted number two and number one by the UK's Classic FM and BBC audiences respectively. The latter was a new poll, but the former has been running for several years, and seems to always fall behind Howard Shore's Lord of the Rings score..... Grrrrr !! :o)
Nathaniel Reed, 30th September 2013